In this ninth article in the LabCoat Guide to Pesticide Mode of Action, I discuss Formulation Adjuvants and their importance as a factor in determining the efficacy and stability of pesticides and biopesticides.
(This article originally appeared on BioScience Solution´s AGBIOSCIENCE & BIOSOLUTIONS BLOG – please consider subscribing to receive similar articles).
Adjuvants are ingredients added to a formulation (formulation adjuvants) or tank mix (spray adjuvants) to improve the efficacy or safety of pesticide and biopesticide formulations.
For this discussion of pesticide and biopesticide adjuvants, our attention will primarily focus on foliar application:
Adjuvants fall into two groups: Activator adjuvants (improving the activity of the pesticide) and Modifier or Utility adjuvants (those improving the handling and application of the pesticide).
Modifier adjuvants may in turn be grouped into those affecting the physical properties of the spray solution (spray modifier adjuvants) and those affecting their handling and application (utility modifier adjuvants)
Figure 1: Adjuvant groups.
Together, adjuvants modify the spray solution to improve handling, application and efficacy in the case of conventional pesticides. For biopesticides, adjuvants may be selected to optimise contact to leaf, soil or insect surfaces, to reduce desiccation and to protect against UV degradation, to increase shelf life or to increase solubility or suspensibility in water.
ACTIVATOR ADJUVANTS
Activator adjuvants command the greatest market share, and their function is to modify spray mixture properties to optimise pesticide and biopesticide retention and uptake by improving their spreading and penetrating properties, thereby improving the efficacy of the product.
For herbicides, care should be taken to evaluate possible crop phytotoxicity (loss of weed:crop selectivity) due to an increase in herbicide efficacy by activator adjuvants.
Wetters / spreaders
Surfactants or surface acting agents – are most commonly used to increase spray coverage on leaf surfaces, by reducing the surface tension of spray droplets and allowing them to spread beyond their initial contact area. Surfactants may be charged (non-ionic) or charged (anionic or cationic).
Non-ionic surfactants are most commonly used in pesticide and biopesticide applications, are compatible with most pesticides and are typically used with systemic products.
Anionic surfactants are typically used to improve the efficiency of contact insecticides to control small, relatively immobile pests such as mites, thrips and aphids, while cationic surfactants are rarely used due to potential phytotoxicity risks.
Organosilicones are silicon-based surfactants which have an extreme spreading ability ("super-spreaders"). Super spreaders can facilitate the movement of pesticides deep into the crop canopy, or into the other difficult-to-reach areas such as leaf whorls.
While super spreaders offer enhanced coverage their use may lead to increased rates of spray droplet evaporation (with potentially lower pesticide uptake rates), or coalescence and potential run-off from the leaf surface.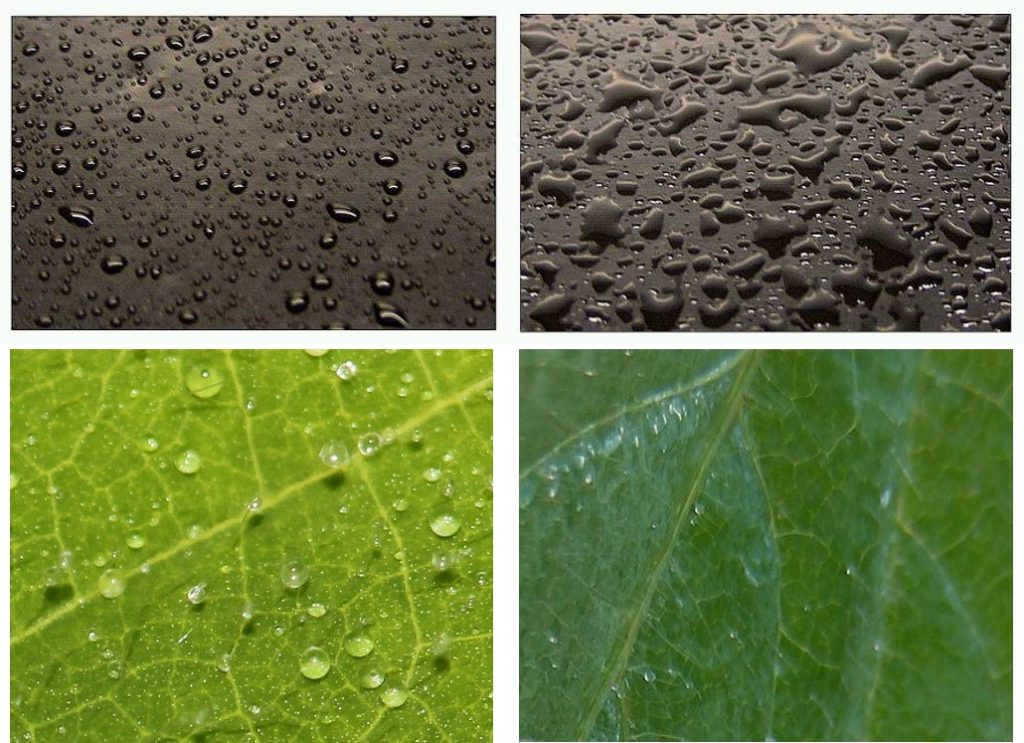 Figure 2: Spray droplets without adjuvants (top left) and with added wetter adjuvant (top right). In the absence of adjuvants, spray droplets "pearl" and can be seen to sit on leaf hairs (bottom left) without contacting the leaf; with the addition of a superspreader, the spray drops spread and cover the entire surface of the leaf.
Penetrants / translocators
Penetrants are generally used to optimise active ingredient uptake in the grasses as well as broadleaf plants with a thick cuticula. Plants growing under hot, dry conditions may develop a thicker cuticula to reduce desiccation, and the inclusion of penetrants in spray solutions may be particularly beneficial under these conditions.
In a previous article in this series, the partition coefficient (logP) and dissociation constant (pKa) of a pesticide active ingredient were shown to be determinants of pesticide mobility in plants.
By affecting uptake across the cuticula as well as intracellular or extracellular transport within the plant, adjuvants are an additional factor deciding whether chemical and biochemical active ingredients have apoplastic (extracellular), symplastic (intracellular) or translaminar (from adaxial to abaxial leaf surface) activity.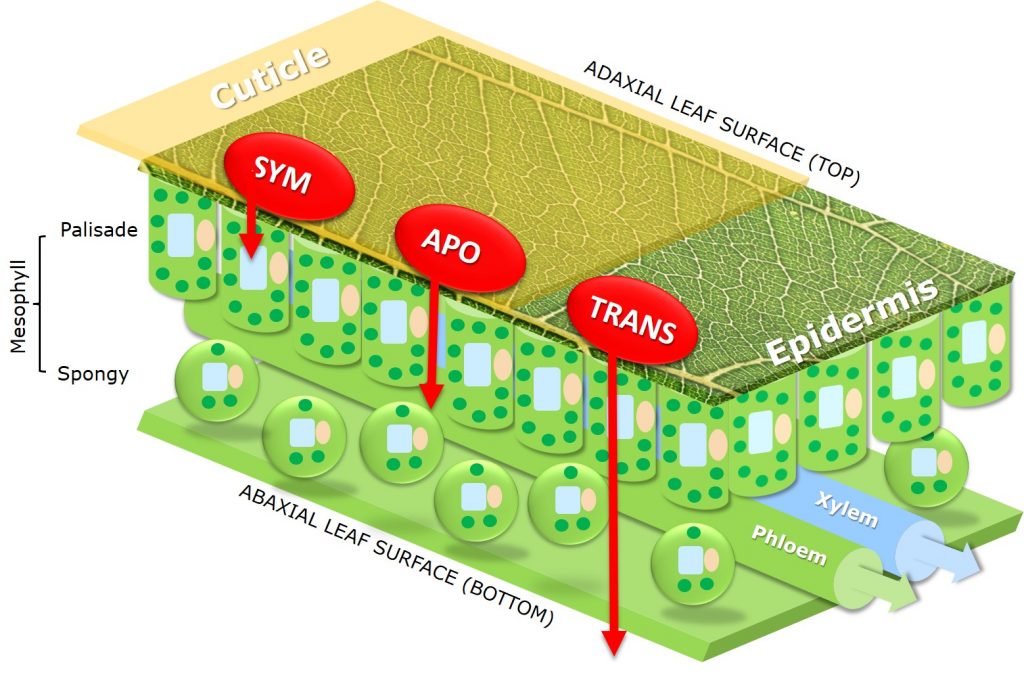 Figure 3:  apoplastic (extracellular), symplastic (intracellular) or translaminar (from adaxial to abaxial leaf surface) active ingredient pathways.
Crop oil concentrates (COC; petroleum or vegetable-based oil with surfactants to emulsify the oil) and methylated seed oils (MSO; modified vegetable-based oil) function as penetrants (facilitating active ingredient uptake by softening or dissolving leaf cuticular waxes) and translocators (facilitating movement within cell walls and membranes), and may act as humectants.
Nitrogen based fertilizers are generally used in combination with a surfactant and a crop oil concentrate to improve the uptake and efficiency of systemic pesticides.
Figure 4: Activator adjuvants optimise pesticide retention and uptake by improving their spreading and penetrating properties. Modifier adjuvants affect the physical properties of spray solutions, facilitating handling, safety and application.
MODIFIER (UTILITY) ADJUVANTS
Modifier adjuvants address specific conditions that may affect the spray solution or its application, typically by modifying the physical characteristics of the spray solution, facilitating handling, safety and application.
SPRAY MODIFIERS
Spray modifiers affect the physical properties of the spray solution and include stickers, drift retardants (thickeners, typically polymers which minimise small droplet formation) and humectants.
Humectants extend the drying time of spray droplets, allowing more time for cuticular absorption and epidermal uptake to occur.
Stickers are ingredients that increase droplet or particle adherence to the leaf surface and are often combined with wetting or spreading agents to improve coverage. Stickers prevent run-off on application as well as wash-off during heavy rainfall.
UTILITY MODIFIERS
Utility modifiers address handling and application issues. Buffers can be used to maintain a slightly acid pH in spray solutions, preventing alkaline hydrolysis of susceptible pesticides, and may improve the uptake of certain herbicides.
AMS (ammonium salts) may be added to reduce hard water problems in spray solutions, while antifoam agents suppressed foam that can cause pump and spray problems.
Suspension agents contribute to maintaining particles in suspension, and are particularly relevant for microbial biopesticides as well as conventional pesticides prone to precipitation.
CONSIDERATIONS FOR BIOPESTICIDE ADJUVANTS
While many conventional adjuvants are suitable for biopesticide applications, special consideration must be given for the living nature of biopesticide products. The objectives of adjuvants in biopesticide formulations are to stabilise the active metabolite or microorganism, to optimise delivery to the target, to protect the biopesticide during storage and in the field, and to enhance the efficacy of the biopesticide.
Due to the particulate nature of most biopesticides, suspension agents as well as agitation of the spray suspension is required to prevent precipitation in the spray tank.
Biopesticides are sensitive to sunlight. UV-stability may be addressed by the addition of protectant adjuvants (sunscreens and light blockers).
To prevent desiccation and ensure microbial survival and efficacy after delivery, formulations may contain moisture-retaining polymers (e.g. hydrogels) and carbon sources (nutrients) such as molasses or peptone.
When choosing adjuvants to optimise microbial growth, it may be necessary to consider whether they also stimulate and support pathogen germination and infection.
Finally, it is important that adjuvants for biopesticides have low toxicity, both from an environmental and health perspective, but also with respect to the viability of the microorganism being formulated.
***
Thanks for reading – please help make LinkedIn great and enable me to produce more content by liking or sharing this article, making it visible to your network!
Please feel free to read and share my other articles in this series:

A little about myself
I am a Plant Scientist with a background in Molecular Plant Biology and Crop Protection.
20 years ago, I worked at Copenhagen University and the University of Adelaide on plant responses to biotic and abiotic stress in crops.
At that time, biology-based crop protection strategies had not taken off commercially, so I transitioned to conventional (chemical) crop protection R&D at Cheminova, later FMC.
During this period, public opinion as well as increasing regulatory requirements gradually closed the door of opportunity for conventional crop protection strategies, while the biological crop protection technology I had contributed to earlier began to reach commercial viability.
From January 2018, I will be available to provide independent Strategic R&D Management as well as Scientific Development and Regulatory support to AgChem & BioScience organizations developing science-based products.
For more information, visit BIOSCIENCE SOLUTIONS – Strategic R&D Management Consultancy
Keywords: #cropprotection #biologicals #biopesticides #pesticides #formulation #plantscience #agchem #agbio #bioscience #authorpreneur #projectmanagement #biological #biopesticide #pesticide #R&D #strategy #consultant #strategic #management #executive #insead #srdm
***